Your Roadmap to College Admissions Success

As experts in the field of college admissions, we believe success awaits every student who has a dream to achieve. While the college application process can bode stress and anxiety, we believe that the college admissions process is about celebration. Our team of college consultants understand how to support a student through finding the right college fit by educating, discussing, and planning a course of action. We offer comprehensive consulting packages to help your student jumpstart the college admissions process with confidence and guidance.
Let us help your student create their own roadmap to college admissions success.
Register NOW for College Workshops
Launch the Process
Make an Appointment Ask a Question
We are excited to announce the publication of
THE ULTIMATE SUMMER PROGRAM GUIDE
FOR HIGH SCHOOL STUDENTS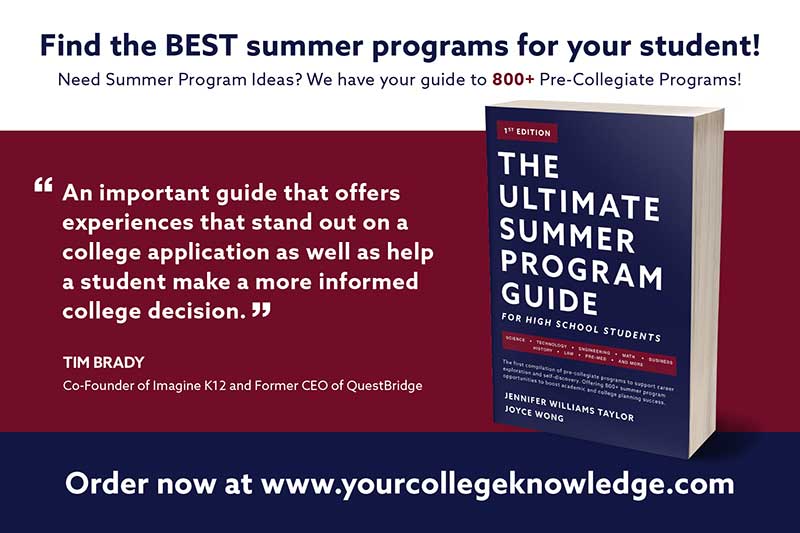 As experts in the field of college admissions, we know that through exploring and self-examination students are able to make a more informed decision about what they want from a college experience. Our hope is that with this robust and comprehensive resource in hand, we can help create academically, socially and contextually prepared college students of the future.
What Our Clients Say
We found the college admissions effort to be much like Alice working her way through Wonderland. That all changed when we decided to work with Ms. Taylor. With her considerable background, she is a knowledgeable, passionate, wise ally. You will not find someone more experienced than Ms. Taylor, with her great attitude, who can guide you to establishing top quality college applications. – Walter, Parent
Professional Affiliations